In my LIVE, in-person, weekly coaching program..

"This is the ONE coaching program that will ACTUALLY help you succeed quickly with your online business. It's proven."
The exact strategies that have made me over $2.6 million!
Hey,
Geoff Stephen here..
So, here's the deal..
I host LIVE training webinars (every week) for my "Executive" members of Globalnpn.com, which is in addition to the huge suite of marketing tools they have access to (kind of as a bonus).
I've been doing these weekly webinars for over a year now and they're hugely popular and incredibly valuable to those that attend.
In these weekly webinars I take you through the necessary steps you need to take in order to build a profitable, long term, online business.
From the planning stages (market research and planning), through implementation (how to actually build this stuff), to analyzation (to see what went wrong and what went right), to re-visiting, optimization, and ultimately making YOU more money.
We cover topics in depth such as:
Complete

Sales funnel creation

and optimization
Squeeze pages, sales pages, thankyou pages..
Writing sales

copy that converts

readers into buyers
Writing emails that get opens and clicks
Writing

profitable autoresponder

sequences
Quick Traffic generation
Blogging

effectively

Conversion optimization
+

everything else you need

in order to succeed online.
We also do sales funnel reviews, critiques, and overviews to ensure our attendees are doing it right. Bring your own funnels, sales pages, and emails, and I'll personally show you exactly what to do in order to make them more effective, more efficient, and more profitable - LIVE before your very eyes! :)

Fact: People that attend my weekly webinars
make more money and become leaders.
But don't take my word for it.. what are people saying?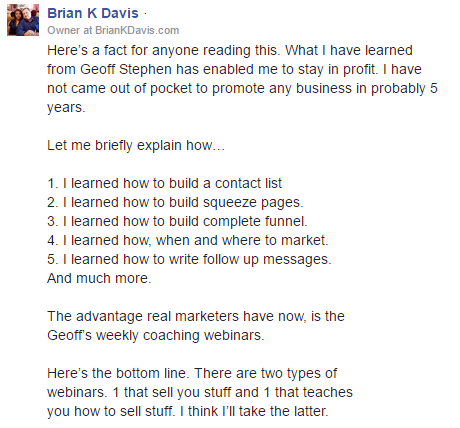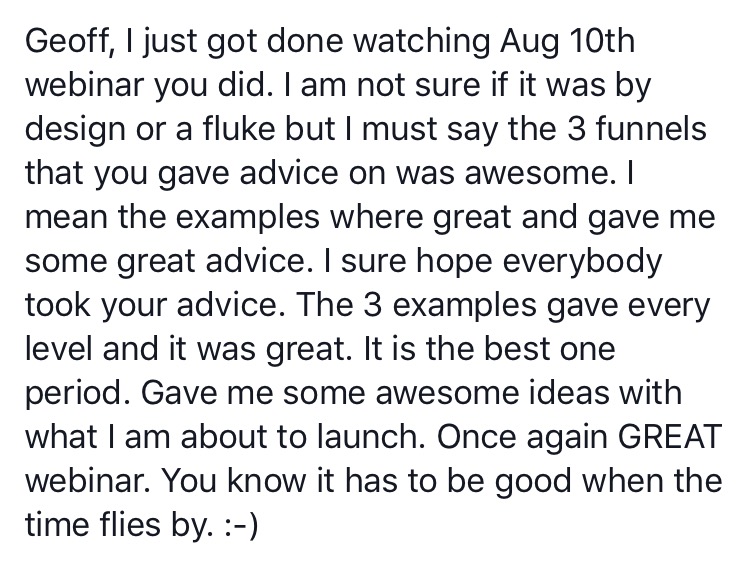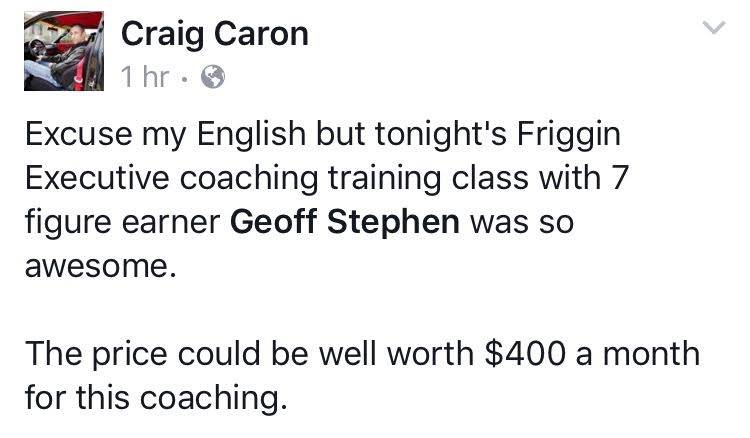 My offer right now is to give you "invited" access to my LIVE weekly webinars (I only let in people that I invited), which has proven to be of massive value to the people that attend these webinars.

Also, you will have your own backoffice where you'll be able to view all previous webinars (recordings), as well as all downloadable supporting documents and resources (email swipes, page templates etc..) that we use to train in the webinars.
So, instead of requiring that you pay for the Executive level membership, which is regularly $147 per month, you will be invited to these exclusive webinars (and have access to all recordings and backoffice as I said)...
For just $9.97
I hate the term "no-brainer" but..
The value I'm offering you today for this package along with all the recordings and resources is really a no-brainer. If you purchase today, you are essentially getting a whopping 88% of the regular price – which I'm sure you'd agree is a steal.
So go ahead and Click the button below and I'll give you instant access to your brand new backoffice and all my LIVE and recorded webinars:
Get access to all my LIVE weekly training webinars
+ recordings on an ongoing basis!